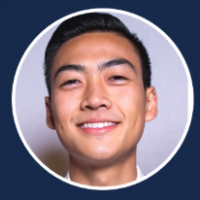 Vincent Doan
Maths and Science Tutor
University of California Irvine, USA- Undergraduate Degree in Public Health
University level researcher in Biological Science
CELTA English teaching qualified
Math, Science and Critical Thinking instructor
_________________________________________________________________________________________________________________
Vincent graduated with honors in Public Health at the University of California Irvine. He contributed to research at the UC Irvine public health program: identifying, planning, implementing and conducting cervical cancer studies among at – risk populations.
Vincent went on to tutor in high school level Biology, Mathematics, and English writing courses. He gained further teaching experience by instructing Science and critical thinking and debate courses to young learners at Parker Anderson Enrichment.
In 2017, Vincent volunteered in Vietnam with a US medical organization to provide health relief to under served individuals living in rural areas. There, he completed his CELTA certification at the ILA learning center and taught English Language to young learners and adults in Vietnam.
During his free-time Vincent enjoys: instructing rock climbing classes, cooking, perfecting his Vietnamese iced coffee, playing the ukulele and listening to podcasts.